Ingredients for 15 crepes
3 eggs
1/2 stick of butter (2 oz / 60g)
3,5 cups of milk (800 ml)
Oil for the frying pan
Food coloring: Orange, black
Equipment
1 mixing bowl
1 whisk
1 frying pan
1 ladle
3 squeeze bottles
1 spatula
In a pan, melt the butter with the milk at low heat. Pour the crêpes baking mix into a bowl. Add the eggs and whisk.
Pour the milk and melted butter gradually and whisk together until smooth.
Use 3 squeeze bottle: Add food coloring in 2 of them. (Just a few drops) Pour in the batter. Shake until color is combined with the batter.
Heat a lightly oiled frying pan over medium high heat.
When hot: Start designing the contours of your design with one of the batter fro the squeeze bottle. Fill your design, with colors until desired result.
Loosen with a spatula, turn and cook the other side until golden brown on each side.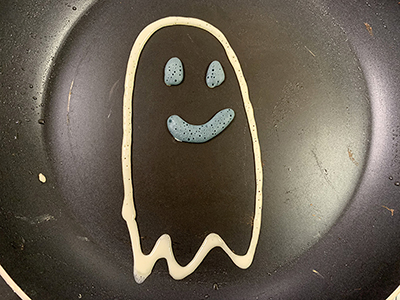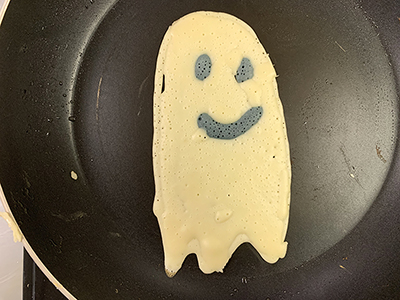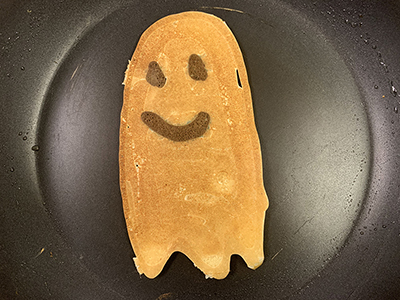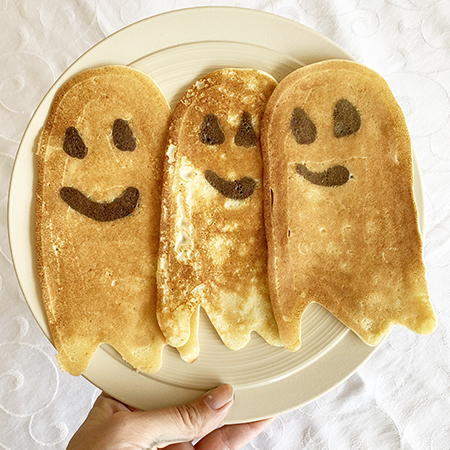 Other easy and cool design ideas for spooky crepes:
Pumpkin faces
Spiders / Spider web
Spooky faces